Gome Ramen
This is how I like to make ramen. I used to use the flavor packets that come with Maruchan ramen until I found out how much sodium was in them. After a few months of experimenting with it, I settled on a recipe that I think is even tastier than the packets.
This isn't a low-sodium recipe by any means, but it's at least a reasonable amount, in my opinion. You can reduce it further by using less soy sauce or by using low-sodium soy sauce and chicken broth.
All the measurements are approximate; feel free to experiment with them as you like.
Credit to my brother for teaching me the method for poaching the eggs.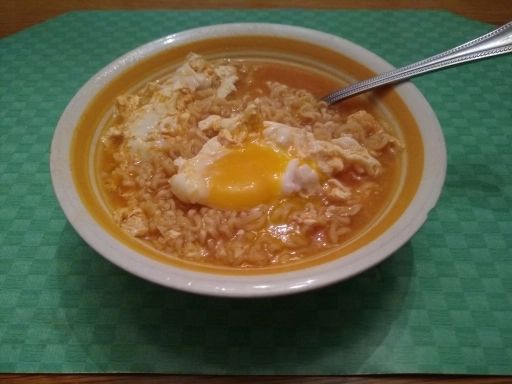 Ingredients
2 cups chicken broth
1 clove garlic, minced
1 in.³ ginger, minced
1 tsp. Thai red curry paste
1 tbsp. seasoned rice vinegar
1 tbsp. soy sauce
1 3-oz. ramen cake (discard seasoning packet)
2 eggs
Instructions
In a small or medium saucepan, heat chicken broth to a boil.
While heating, add garlic, ginger, curry paste, vinegar, & soy sauce.
Once boiling, add ramen cake. Lower heat slightly, but keep close to boiling.
After 1 minute 30 seconds, add eggs. Cook for another 1 minute 30 seconds, or slightly longer for less runny yolks. Make sure to stir the eggs a bit to keep them from sticking, but gently to not break the yolks.
If you try this recipe, send me an email and let me know what you think. My email is gome ​@ ​ctrl-c.club.