Short impressions of Lubuntu and Regolith Linux
2022-08-05
Summary: I like them.
Longer reports follow:
RegolithOS
I have been using Ubuntu on my laptop for the past 4 years. At first for window managers I had Unity, then Gnome 3. Later I became interested in a tiling window manager. I tried a few out but settled on i3 after some time figuring out how to configure it for Dvorak. Like someone's Vim dotfiles, it's easy to get stuck in a continuous never-complete reconfiguring of one's setup. I added the ability to change volume, change brightness, jump to different workscreen setups, etc etc. But I always had little bugs that would creep in. Probably a result of my particular combo of fish shell, Dvorak, i3, and my audio setups.
About 6 months ago I stumbled across RegolithOS, which bills itself as Ubuntu with i3 preconfigured. Surely I didn't need that, I thought. But oh, what the heck, it looks nice in screenshots. Should I try it?
It's an easy install on top of Ubuntu. And I wanted to update my (for shame) old Ubuntu 18.04 LTS to something more recent, to 20 or 22. So I backed up my computer, then updated to 20, then to 22.04 and then Regolith's add-ons. Oh, what the heck, if it brakes, it will brake fabulously I thought.
To my surprise, nothing was broken. It 'just worked.' I restarted and it was beautiful. I was shocked at how easy and complete it felt. Aside from finding some old documentation out of date (that I reported on their Gitter and then they updated), I found it to be a well-configured i3 setup that required no tweaking. Worked out of the box, including all media keys, brightness, and had lots of great add-ons like a beautiful launch menu pop-up.
I've now been using it 5 months or so and have no complaints, no changes needed. If you like Ubuntu already, find yourself curious about i3, or spending too much time configuring your tiling window manager, maybe this is a good spin for you.
Technically Regolith is classified as a Desktop Manager but you can download a preconfigured iso as well if you are starting from scratch.
I'm not even going to throw up a screenshot since my computer looks just like any other Regolith default, aside from my desktop background.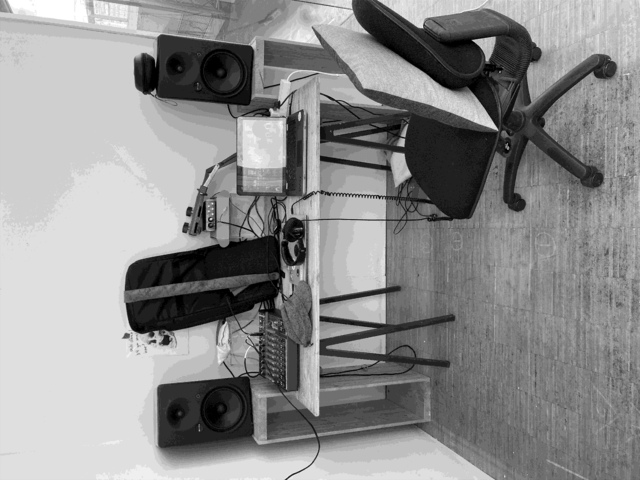 Lubuntu
A short report trying out Lubuntu.
I'm currently an artist in resident at a museum. There's a drawer with old tech gear, including mixers, speakers and cables. I set up a temp recording studio to work on electroacoustic music with a friend. In a drawer we also found an old computer, a HP Envy, I think from 2009. It has Windows on it, but I had to start up in Safe mode to even try it out because I didn't know the admin password, and the computer didn't have 'service pack 1' installed which prevented the browser from being updated! When I finally got the darn thing running I saw it had Windows 7. Okay! So my next step: wipe the computer and put a new Linux OS on it. But which one?
This laptop I found is 13 years old. So I need a lightweight distro. I guess RegolithOS could work, but I wanted the computer useable by friends here without any previous Linux experience, and I didn't think i3 would be a good experience for them. So I thought I remembered that Lubuntu was the lightweight Ubuntu - so should I try that? I went to the website and read:
The project's goal is to provide a lightweight yet functional Linux distribution based on a rock-solid Ubuntu base. Lubuntu provides a simple but modern and powerful graphical user interface, and comes with a wide variety of applications so you can browse, email, chat, play, and be productive. Lubuntu was formerly a distribution for low-end hardware, but we have refocused.
They go on to explain in a blog post that it should still be a good distro for reviving old computers but that they will no longer primarily make that their focus.
Okay, so maybe that's a bummer, but let's still give it a shot.
I downloaded the iso, wrote it to usb with dd, plugged it into the laptop and restarted. In a minute it was up and running. I double clicked the installer and less than 10 minutes later (I didn't officially time it) I was up and runnig. I had never used Lubuntu before, which comes with Openbox as its window manager, which I don't think I've used before. But it was obvious what to do: Open the menu in the bottom left. I found the menu categories and built-in basic apps pretty usable. I found the qt-terminal, sudo apt updated and sudo apt upgraded, quickly downloaded some basic programs (neovim, curl, w3m, tldr, kate, kitty, amfora, can't remember what else) and some basic art/music programs (krita, audacity, puredata, rhythmbox, love2d).
For a 13 year old laptop, the thing is fast. Installing with aptitude is almost as quick as my much more modern laptop. This old clunky computer practically flies. Because I've used Ubuntu so long I didn't feel like I needed to learn anything. I have two complaints so far that I haven't solved: it's not obvious to me how to pin programs to the built-in taskbar. And I Can't seem to get the keyboard keys for special characters to match up with the character printed on the key. My guess is because I use english and this is a european keyboard, but when I tried to switch to danish I still had an issue. It's not an issue for me (i write in Dvorak anyway), but I can tell it's confusing to the other artists here that I am showing Linux too. One person used it in a web workshop I taught and was a little confused looking for forward slash, brackets and the like. But those are the only issues I've had so far. Sound works great. The audio interface I plugged in seemed to work fine. And everything looks pretty nice.
Would recommend!
To leave a comment email lettuce at the current domain.