Retrogrouch Biking
2021-09-28
A simple pleasure.
The wind rushing through your hair (I'm bald) on a warm day. The ability to literally turn 180 on the spot when you decide to change your route. The flow, moving in a fluid line from desire to destination. The ability to reject laws (stop signs, closed streets). Not being reliant on others nor contributing to ozone creation. A technology simple enough that the basics haven't changed much in 150 years, and it's clear enough to understand how it works by looking at it or riding it. Maintenance is minimal. You can do it yourself, or pay someone else and still feel like it's a huge bargain compared to car ownership.
The bike's been my main mode of exercise and transportation for 20 years. It's useful for keeping weight and my blood sugar in check. It's the only consistent exercise I can do almost everyday. And when I don't feel like exercising I do it anyway just because I need to get somewhere fast!
My favorite bikes are a touch less refined than the current 'gravel bikes' craze, which seems to revolve around newer custom built hybrid bikes. Believe me, you can use an 80s steel frame and get pretty much the same thing, unless you want disc brakes.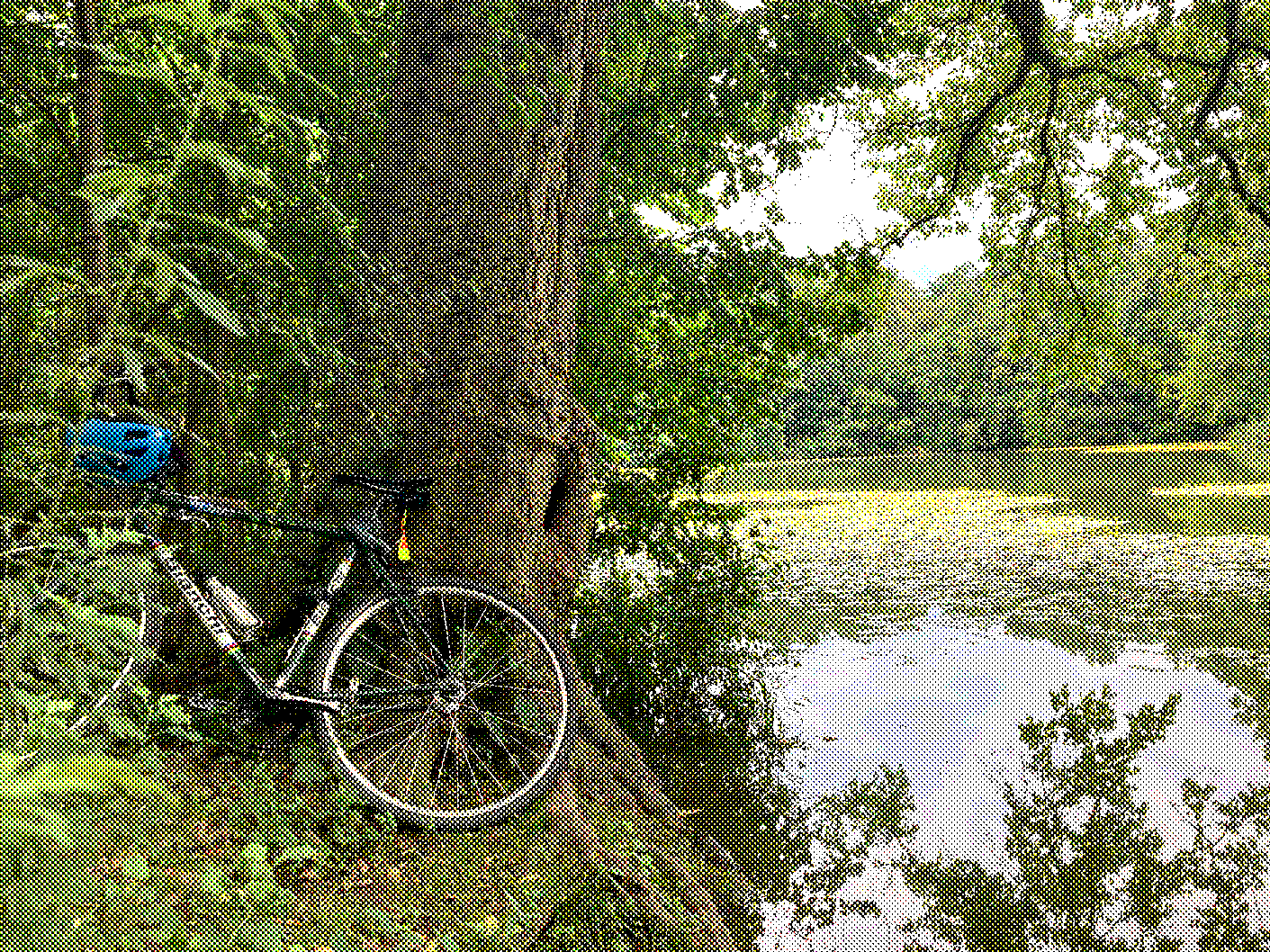 Anyway, I own 2 bikes that I've had for about 14 years. One is a Bianchi San Jose, a singlespeed/fixed with flip flop hub though I almost always ride singlespeed the past few years. The San Jose is essentially a clone of their Volpe touring bike but with rear-facing dropouts and a special 'flatbar' top bar so that you can haul the bike on your shoulder. If this bike were ever stolen I'd buy it again. I love it. Always true. I mean that literally; I have ridden it miles and miles on windy routes without needing to use my hands. I've ridden it with racks. Without. Currently I have a carradice bag with a bagman metal loop that it sits on to keep from grinding against the rear wheel. I'll be adding a front rack to the bike soon.
My other bike is a Bridgestone MB-1 from I believe 89 or 90. The bike is slightly too small for me with its current setup. It's a light rigid fork and hardtail. I ride this on a hidden urban mountain bike trail near me regularly. Though sometimes I ride the Bianchi and just have to be careful of what I roll over. Recently I locked it up outside a cafe and an older gentleman asked me my price for selling it and when I named a number (high, since it's a classic and I'd need to buy another nice bike to replace it!) he told me he'd discuss with his wife. That's fine. I'm in no rush.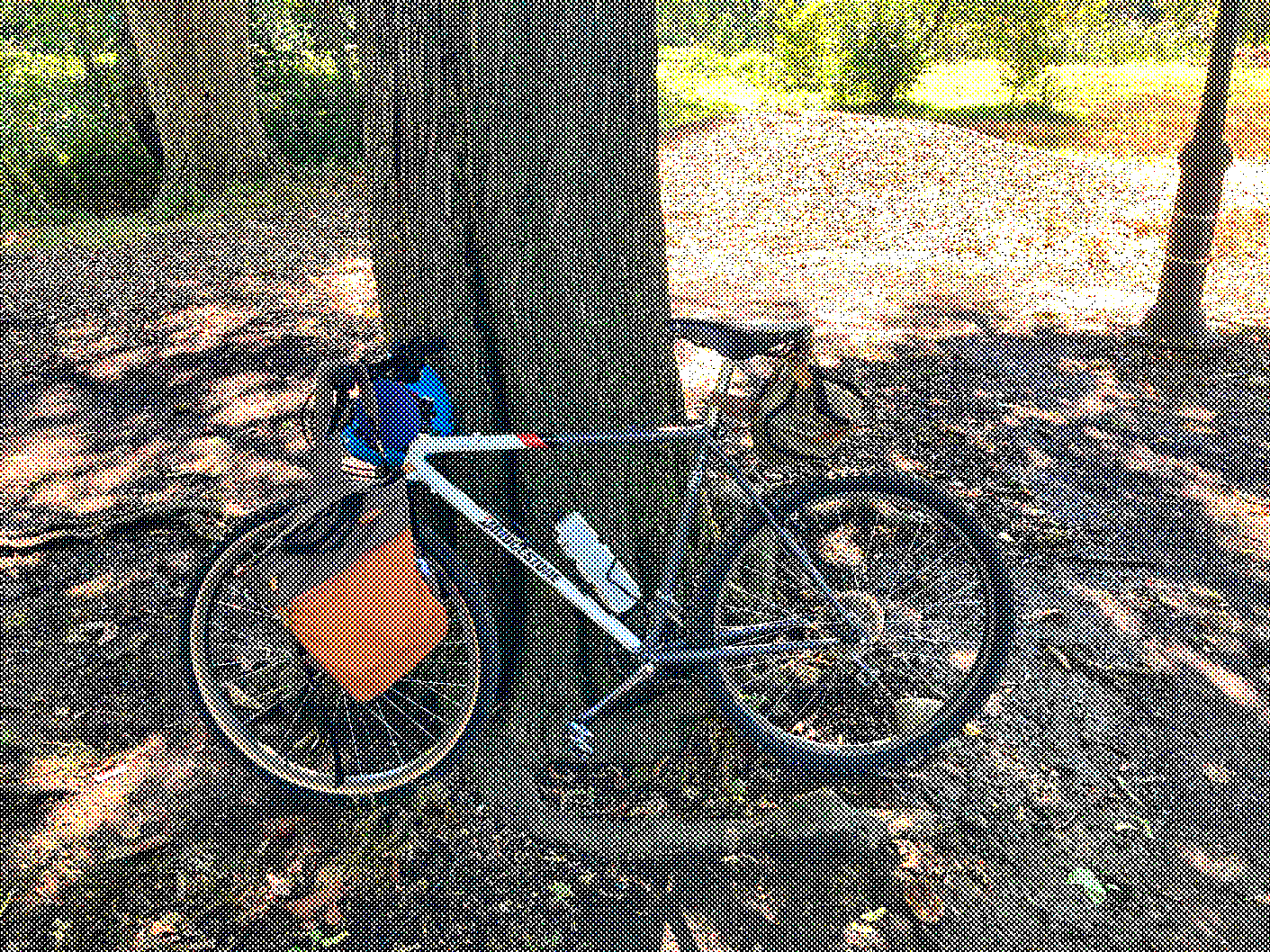 Riding a bike is so fundamental in my life that I'm surprised by how many others don't. I live in New York City where we clearly have public transit. And yet even before Covid the bike was one of my main modes of transit. To get 3 miles away from my apartment could take 45 minutes or more by subway, or just about 20 minutes by bike. Even for longer distances riding a bike is often the same amount of time as the subway when accounting for transfers. And where I live it appears that almost 1 in 5 people on the subway aren't wearing a mask, so on the bike I'm not worried about dealing with this nonsense.
I should say that my "third bike" I occasionally ride is Citi Bike, the city's bike rental system. Most folks think it's a public department, but really these city bike programs are all run by commercial third parties, many which operate in multiple cities. In New York the company that owns the service is Motivate (Lyft), who also operates city bike programs in Portland, D.C., Chicago, Columbus, Boston/Cambridge, SF Bay, and Minneapolis/St. Paul. There are 40,000 bikes scattered around New York City, and I live just about 5 blocks beyond the furthest reach of one of the furthest docking stations in Brooklyn. Occasionally if I'm out and have taken the subway somewhere and want to get home I'll choose this method. This summer I was in Europe for a month and when I flew in I landed in Jersey, took a train to Manhattan and then rented Citi Bike to get home. It helps that I am a one-bag traveller and my backpack fit easily in the front basket.
Bridgestone bikes, the manufacturer of my mountain bike, were run by Grant Petersen, now the proprietor of Rivendell Bicycle Works as well as a writer. Grant's a self-professed 'retro-grouch.' He eschews the racer-like tendencies of bicycle manufacturers with their sleek delicate frames, missing practical parts to hold on racks or baskets, or using hard-to-maintain parts aimed at lycra-clad prosumers. He maintains that the best bike clothing and the best bike shoes are whatever you've got on. In addition to frames and completes Rivendell sells pine tar soap, tiny camp stoves and oldskool cork handgrips (I'm a fan). While the tiny production hand-made and painted frames are currently out of my financial ability, Rivendell's bikes provide a guide of what I think is important for enjoying cycling: bigger tires for rolling over potholes or roots, quality steel that can take some abuse, the ability to use racks or baskets for shopping, comfortable handlebars and pedals. This kind of bike could be built out of old 80s frames (Specialized Hardrock from that era for example). The difference between these old conversion bikes and a modern frame would be the quality of parts and level of handmade aesthetic detail, which is not important to everyone.
I learned to ride with neighborhood friends as a kid. We'd go out all day. As a college student I learned to mountain bike by getting a book on mountain biking from the local library. I read how to dodge rocks and do a bunny hop, skills I still use when I go out. Most of my friends are just street bikers but I love riding trails too, both for the nature, the solitude, the skill and challenge.
When first riding, particularly as an adult, it's often in groups that a rider feels safest and can learn some of the subtle skills of urban riding. I used to ride with Midnight Ridazz in LA over a decade ago, as well as Critical Mass in Philly, and smaller groups when I lived in the desert. In these groups you find community, knowledge of how to work on your bike, support.
But I'd be remiss if I didn't mention one of the big problems of biking: men. While I do know many women and non-binary riders the vast majority of folks I personally come across on a bike are white dudes, for a variety of complicated reasons. When riding in Denmark recently of course I noticed how normal it was for grandmothers and grandfathers, parents and children to all bike together. In the U.S. cycling has increased dramatically by immigrants and P.O.C, though much bicycle advocacy work leaves out these groups. The bike 'community' (as heterogenous as it is) needs to do more to support a diverse group of riders, and biking should be taught and supported in schools like swimming or driver's ed. Affordable bikes should be legislatively supported, and cities should support programs like Philadelphia's Neighborhood Bike Works, which provides kids with a bike and teaches them how to build up, ride and repair their bicycles. Most recently Citi Bike partnered with a health insurance company (who's branding appears on the program) to provide reduced fare $5 monthly Citi Bike memberships for Snap recipients and members of the New York City Housing Authority 16 years and older. Free would be a better price.
Where making art or music or coding is a *practice*, biking is for me a habit. It's not something I need to work on but something that just happens. A constant and reassuring presence in my life. I've been riding near-daily since entering college 20 years ago and I hope to ride til I can't anymore.
References
Classic Cycle: 1990 Bridgestone MB-1
Rivendell Articles, Opinions and Videos about bikes, parts, riding, etc
Bike Lanes Are White Lanes: Bicycle Advocacy and Urban Planning book
Wikipedia: Provo (movement) - White Bicycle Plan
Comments can be left by emailing lettuce at the current domain.