Gome Udon
I got these good udon noodles the other day. A bag of them has three little serving-sized bundles in it, each wrapped in a little piece of paper. They're good noodles, easy to make, and I like the portion size.
When I was making them for the first time, I was wondering what I should put on them. I decided to come up with a little sauce slightly based on the ingredients from my ramen recipe. I thought it was great, and after a couple iterations, I had measurements down for a recipe.
One note: the udon I use says to boil it for 7 minutes and then to rinse in cold water to stop cooking. I like to keep them hot, so I just do 6:30 and then drain it without a rinse. If you want to have them cold, the sauce is still good on that too.
As far as I know, this isn't a traditional way to server udon or anything. According to Wikipedia, they're often served in broth. But this sauce seems to work pretty well and the flavor is a good match, in my opinion.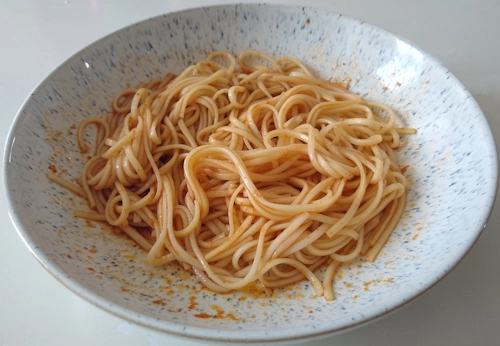 Ingredients
~2½ oz. or ~75 g udon noodles
1 tbsp. soy sauce
½ tbsp. rice vinegar
1 tsp. red curry paste
¼ tsp. garlic powder
½ tbsp. avocado oil
Instructions
Boil the udon as instructed on the package (mine says 7 minutes).
While cooking the noodles, mix all the other ingredients together in a separate container.
After you've drained the noodles well, add the sauce and toss the noodles to coat them.
If you try this recipe, send me an email and let me know what you think. My email is gome ​@ ​ctrl-c.club.